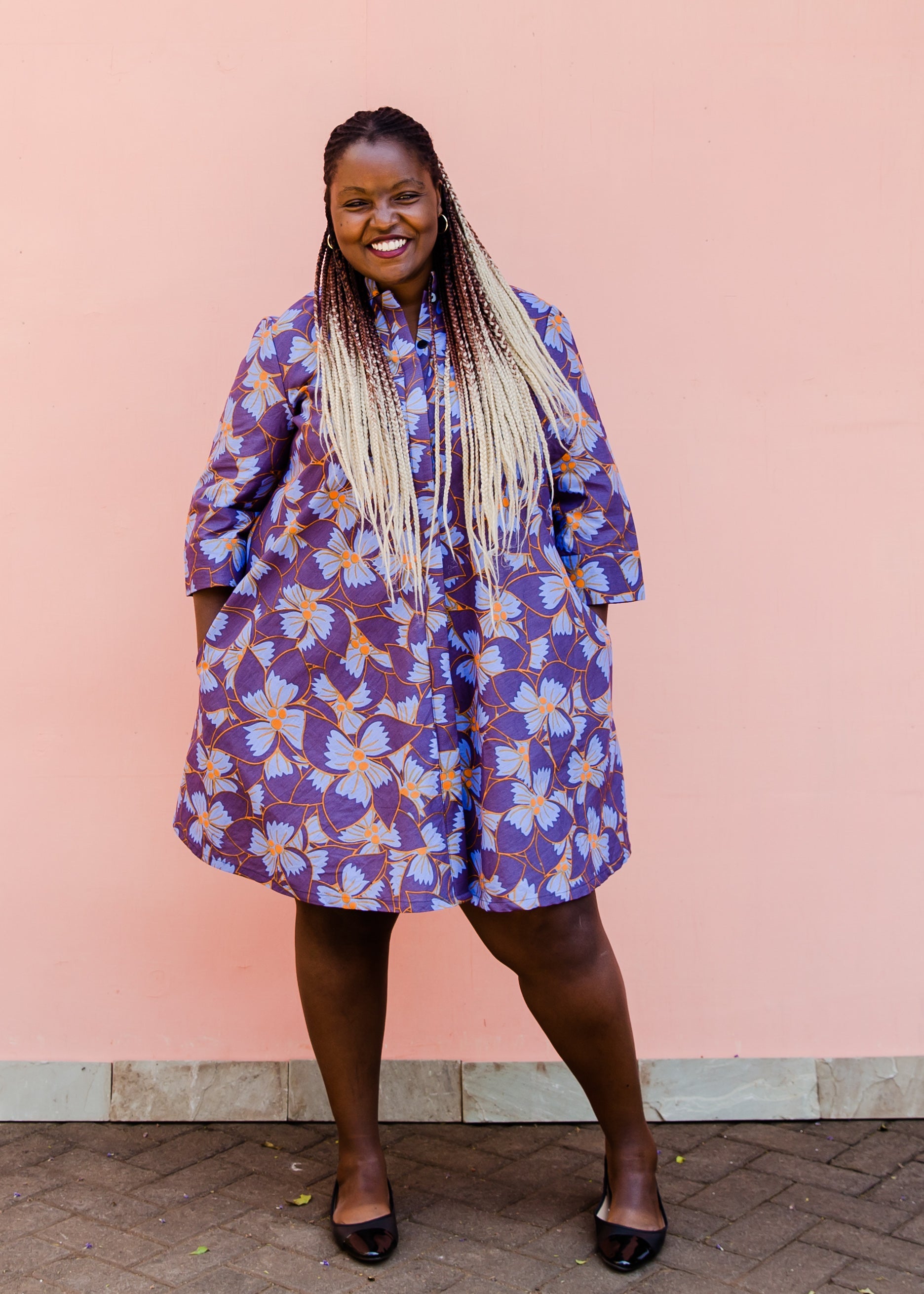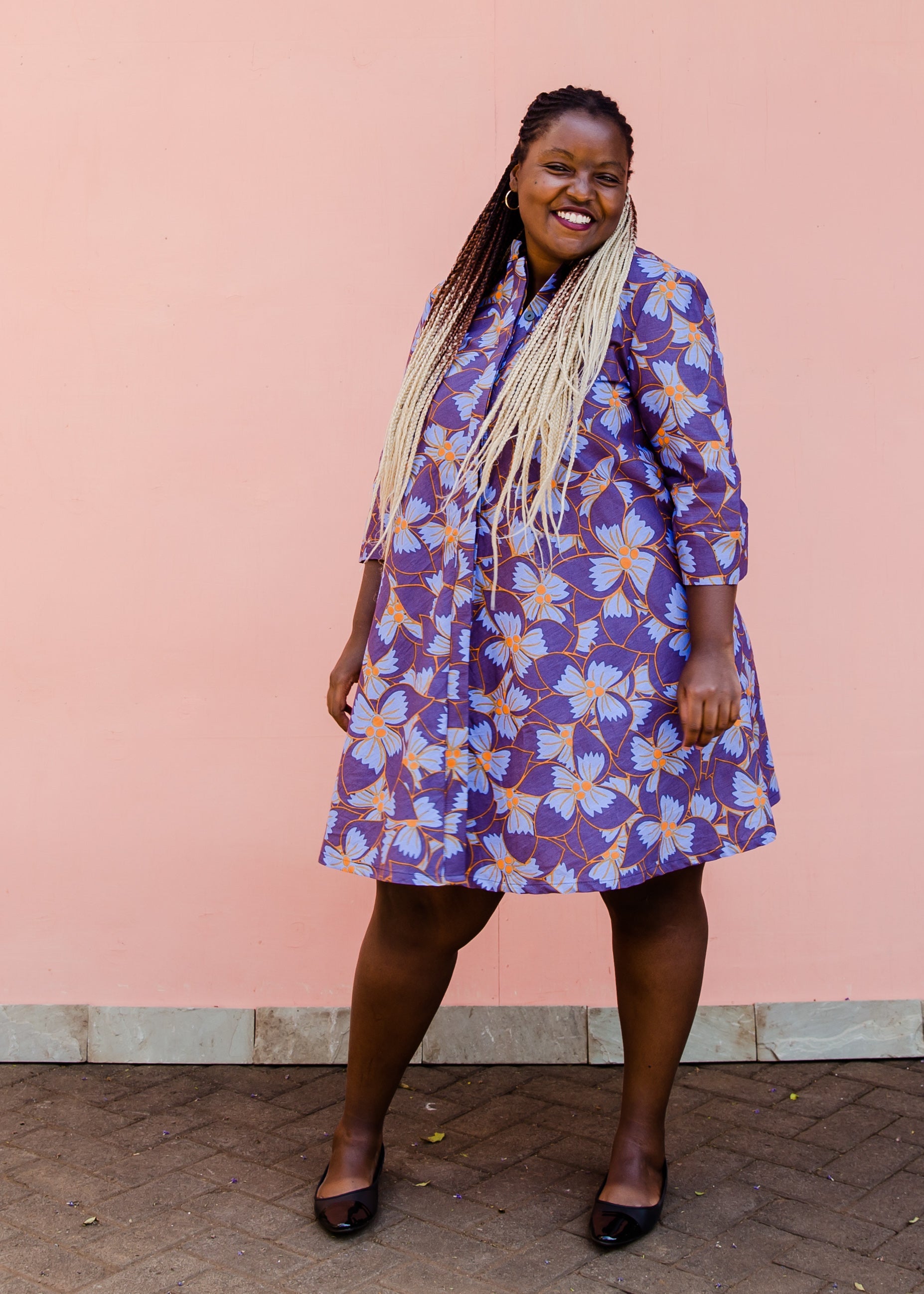 This dress will be more than you bougained for!
Grade: Great to Go
Textile design by artist Gitty Chemoss
100% cotton kitenge,

 

100% woven and printed in Kenya
Colors: Purple, lilac, orange
Button fastening through front
Hidden pockets
Machine wash cold with like colors
Fits true to size, take your normal size
Airy fit, cut to be worn loose and stand away from the body
Light weight, non-stretchy fabric 
Louise is 5'5 and wears a M,
Jaz is 5'5 and wears an XL 
Not sure about your size? Check out our sizing guide!
These textiles are a part of our 100% Made in Kenya collection and were printed in Kenya on Kenyan grown cotton. This print was designed by self-taught artist and surface designer Gitty Chemoss, who uses her art to explore creating patterns that contribute to the beautifully-expressive, uniquely-dynamic creations that impact and transform the way we experience, appreciate, and envision the world around us.
Great to go!
This dress is in excellent condition, either it's brand new, or it's been verrry gently worn, but not visibly.
Looks good!
This dress is in good condition, it may have some visible wear including fading, stretching and it's extra soft.
Lots of love!
This dress has gotten lots of love! It will have noticeable wear and tear, and we'll be sure to indicate in the photos what and where.
Meet our production partner, SOKO Kenya! Based in Kikambala on the Kenyan coast, they are an ethical manufacturer that truly embraces a fair, kind and transparent work culture. In addition to paying above living wages, SOKO provides employees with paid leave and stipends for family emergencies, free pre-primary childcare for all employees with children from ages 2-4, daily mid-morning tea and midday lunch, and clear, outlined processes for job advancement. These values extend to the workspace itself, which is open, airy and bright. It's truly a privilege to work with the SOKO team, and we invite you to learn more about the stitching process here!
When we say 100% Made in Kenya, we really mean it! Made from cotton grown in western Kenya and designed, printed and stitched outside of Nairobi, it doesn't get more local than this! We're so proud to be part of an ecosystem supporting and advocating for Kenyan agriculture and manufacturing. Learn more about these fabrics are made here!
The ecosystem for rotary printed fabrics is complex and truly global. While it's rare to see a rotary printed textile produced in a closed-circuit, farm-to-shop supply chain, the fabrics we're producing are verifiably 100% made in Kenya. Not just traceable, but local. Not just identifiable, but ethical and accountable.
Our production impacts hundreds of smallholder farmers and their families each year. It impacts young Kenyan artists whose voices and work may now have a slightly bigger audience (and fan club:) ). It impacts the Kenyan textile manufacturing industry, which for years has been out-competed in the local market by imported fabrics. Finally, it impacts you, because you can know that your dress was made ethically, honestly, and with pride.